Organic Treats
Delicious treats for dogs made with a minimum of 95% certified organic ingredients and more than 80% fresh polutry pork and beef
The low content of carbohydrates makes SPECIFIC CT-BIO also suitable for dogs with diabetes mellitus.
Why choose Organic Treats?
Certified organic with a minimum of 95% of ingredients of controlled certified organic origin

Contains more than 80% fresh poultry, pork and beef

Recyclable packaging

Grain-free recipe and with a low level of carbohydrates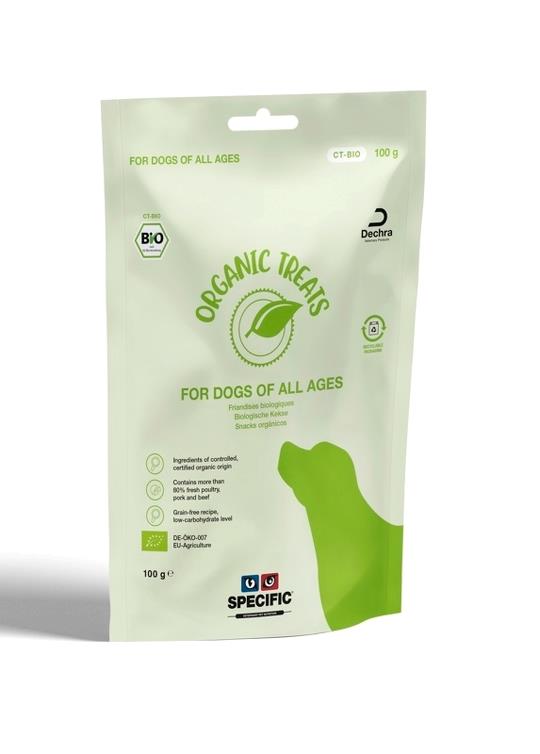 Product code:
CT-BIO
Package sizes:
6 x 100 g
10 SPECIFIC™ CT-BIO Organic Treats replace:
SPECIFIC™ C-BIO-D Organic
16 g
SPECIFIC™ CPD-S/M/XL Puppy
15/15/16 g
SPECIFIC™ CXD-S/M/XL Adult
16 g
SPECIFIC™ CGD-S/M/XL Senior
16 g
SPECIFIC™ CAD Active
13 g
SPECIFIC™ CED-DM Endocrine Support
18 g
SPECIFIC™ CJD Joint Support
17 g
SPECIFIC™ CΩD Skin Function Support
14 g
SPECIFIC™ CRD-1 Weight Reduction
21 g
SPECIFIC™ CRD-2 Weight Control
18 g
Nutrient
Contents per 100 g
Contents per MJ
Metabolisable Energy kJ
1440
Protein g (crude)
35,5
Fat g (crude)
23,5
Carbohydrate g (NFE)
1,7
Fibre g (crude)
2,3
Calcium g
1,7
Phosphorus g
1,0
Magnesium g
0,08
Sodium g
1,0
Potassium g
0,60
Water g
28,0
Ingredients
Fresh poultry*, pork* and beef* (82%), dried poultry protein*, pea fibre*, minerals, carob kernel meal*.
* from controlled, certified organic origin.
Contains no artificial antioxidants, colours or flavourings.