Hypoallergenic Treats
SPECIFIC™ Hypoallergenic treats are made from hydrolysed salmon. Hydrolisation cuts the protein molecules into very small pieces, making it too small to start an allergic reaction. This means that these treats are ideal for dogs with food sensitivities and allergies and are also suitable when your dog suffers from digestive problems.

A treat for healthy dogs of all breeds and ages.
Why choose Hypoallergenic Treats?
Based on hydrolysed salmon, protein and rice, a limited number of ingredients and those less likely to trigger an allergic reaction.


The ingredients in these treats are identical to those used in SPECIFIC™ Food Sensitivity, the hydrolysed diet for daily management of food sensitivities.

Highly digestible, high quality ingredients.

Gluten-free.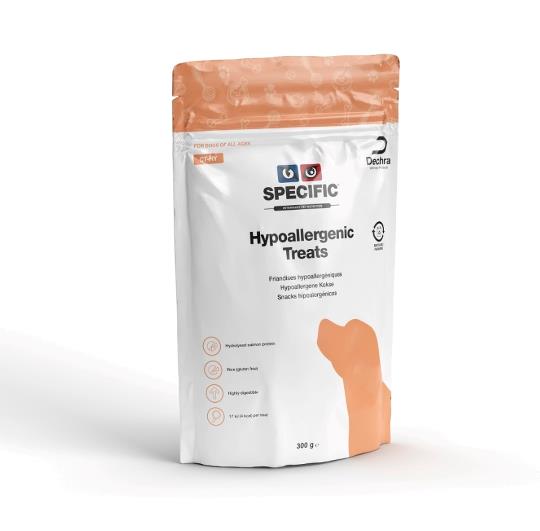 Product code:
CT-HY
Package sizes:
300 g
For dogs with adverse food reactions - 5 SPECIFIC™ CT-HY treats replace:
SPECIFIC™ CDD Food Allergy Management
6 g
SPECIFIC™ CDD-HY Food Allergy Management
6 g
SPECIFIC™ COD-HY Allergy Management Plus
6 g
For dogs with gastrointestinal problems - 5 SPECIFIC™ CT-HY treats replace:
SPECIFIC™ CDD Food Allergy Management
6 g
| Nutrient | Contents per 100 g | Contents per MJ |
| --- | --- | --- |
| Energy kJ | 1514 | - |
| Energy kcal | 362 | - |
| Protein g (crude) | 18.9 | 12.5 |
| Fat g (crude) | 8 | 5.3 |
| Carbohydrate g (NFE) | 53.6 | 35.4 |
| Fibre g (crude) | 4.5 | 2.9 |
| Calcium g | 0.79 | 0.52 |
| Phosphorus g | 0.65 | 0.43 |
| Sodium g | 0.54 | 0.36 |
| Omega-3 fatty acids g | 0.09 | 0.06 |
| Ratio n-3:n-6 | 1:12 | 1:41 |
| Water g | 8.5 | - |
Ingredients
White rice, Rice protein, Pork fat, Hydrolysed salmon protein, Cellulose powder, Hydrolysed protein, Vitamins and Minerals, Salt